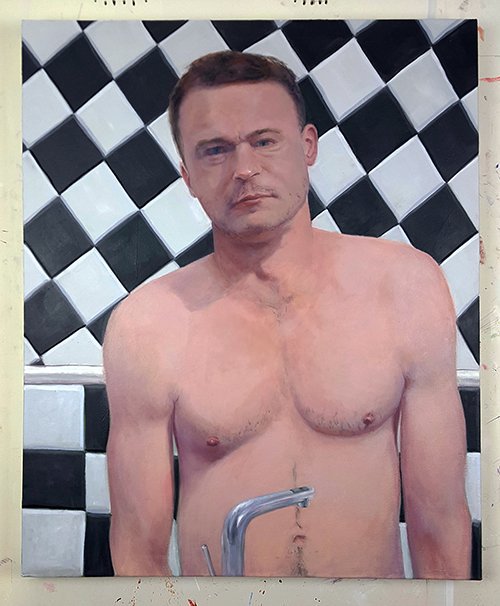 Patrick Donovan
Patrick Donovan is a painter living and working in Los Angeles. He makes narrative figure paintings, frequently featuring partially male nudes, as well as abstract paintings. Patrick's works explore, among other issues, modes of representation: his paintings variously take the form of flat figuration, multiple styles on one canvas, trompe l'oeil cut up pieces of paper, and paint on real paint cans. Doubt and anxiety underlying comfortable settings is an issue appearing within these modes.

Patrick's paintings have been shown among other places at the Crocker Art Museum, Sacramento, Ca; San Diego Art Institute; Blackstone Gallery, Los Angeles; Last Projects, Los Angeles; (e)merge Art Fair, Washington, DC, Hot Art/Wet City, Vancouver, BC, and New American Paintings, Pacific Coast Edition (2013).

Patrick has an MFA (2012) in painting from the San Francisco Art Institute, and a Post Baccalaureate Certificate in Fine Art (2009) from the Maryland Institute College of Art, Baltimore, MD.
Website: http://patrickjamesdonovan.com/
Email: patrickjamesdonovan@gmail.com